| | |
| --- | --- |
| Selected data | |
---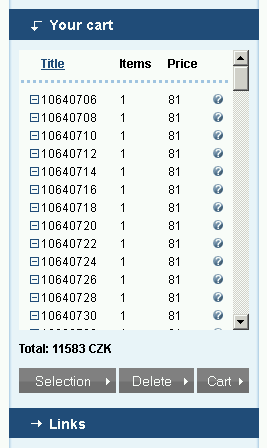 Symbol of "?" displays metadata information
The frame contains list of all selected export units.
"+" and "-" buttons add/remove pieces of individual items. It is not possible to buy more than one piece of any export unit.
The button "Display selection" displays purchased export units in the map. The visualisation is not refreshed automatically but only after clicking on this button.
The button "Delete" removes all export units from the cart.
The button "Cart" displays the Cart.
---
© 2009 Intergraph Corporation